We are happy to release version 1.6 of the Auphonic Leveler Batch Processor and version 1.2 of the Auphonic Multitrack Processor with new features and bug fixes for Mac and Windows (see Changelog below).
These are
free updates
, everyone is invited to download the latest binaries: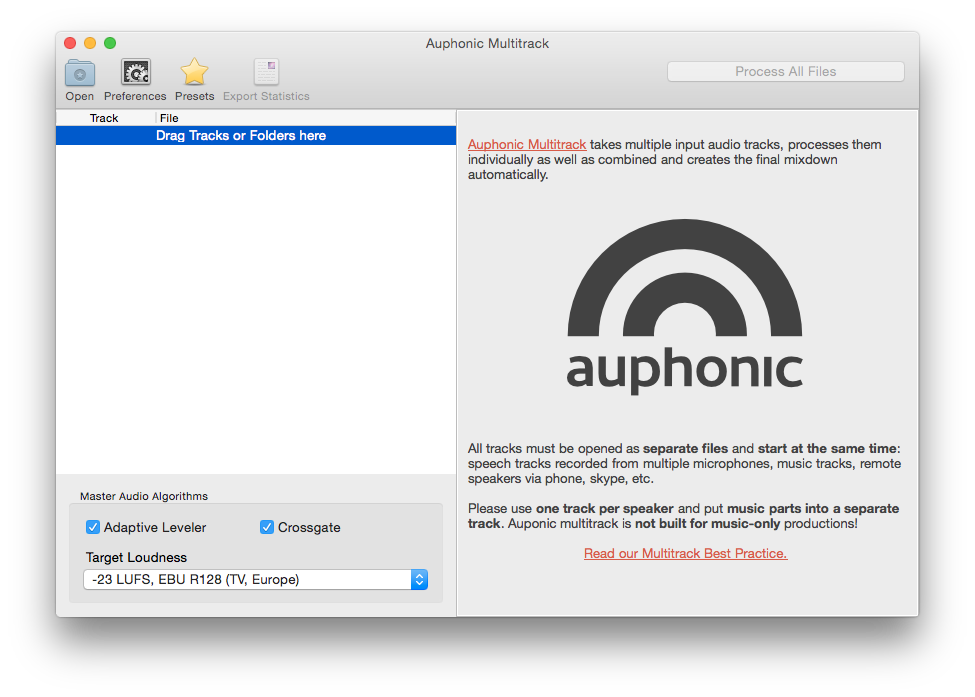 Changelog
Opus Encoder and Decoder:
We included an opus encoder and decoder in all apps. Opus is particularly interesting for podcasts due to its suitability for both, music and speech, and its outstanding sound quality at also very low bitrates. For more see Opus, the revolutionary open audio codec for podcasts and internet audio.
Multipass Loudness Normalization:
We implemented a new, multi-pass loudness normalization strategy based on statistics from processed files on our servers, to more precisely match the target loudness.
When normalizing content to higher loudness targets, a final true peak limiter will decrease the loudness of the audio again. You could repeat this process in a loop until you match the final target, which would not be very efficient. We use statistical data from files on our web service to avoid additional processing steps.
Export of individual, processed Tracks in Auphonic Multitrack:
It is now possible to export all individual, processed tracks in Auphonic Multitrack as separate files in WAV, WAV (float) or FLAC format! Please select your preferred export format in Preferences -> Output Files.
The exported tracks could be loaded in a DAW or audio editor for further manipulations.
Audio Algorithm Improvements:
All audio algorithms come with many improvements, fixes and updated classifiers with data from our web service.
This release includes many Adaptive Leveler improvements and updates in Auphonic Multitrack for regions with background or ducking music tracks.
Disk Space Usage Optimizations:
When using big files or lots of tracks in Auphonic Multitrack, you are likely to run out of disk space on computers with small SSDs. The disk space usage of many algorithms was optimized for the current release. If you still have problems, please select an additional disk for processing in Preferences -> Hardware!
Noise/Hum Reduction and Music-Speech Stats in Auphonic Leveler GUI:
Exact statistics of our noise&hum reduction algorithms and music-speech classifier are now also available directly in the Audio Statistics GUI of the Auphonic Leveler.
Better Errors and Warnings:
We improved our error and warning messages, so that it is easier to find common problems.
7 Day Trial Version:
Now all our programs can be evaluated for one week – sorry for the previous confusion!
In addition to that, please use our web service to evaluate our algorithms online.
Upgrade now
... and please let us know if you have any questions or feedback!