Once in a while it is necessary to convert big audio or video archives to new formats and metadata conventions, other servers, new loudness targets or apply some audio processing/restoration algorithms.
Now we offer a managed processing of archives to companies and institutions, where we adapt our algorithms and workflows to special requirements of our clients, implement all steps (no need to program the Auphonic API yourself) and perform the whole process on dedicated hardware to speed-up the conversion.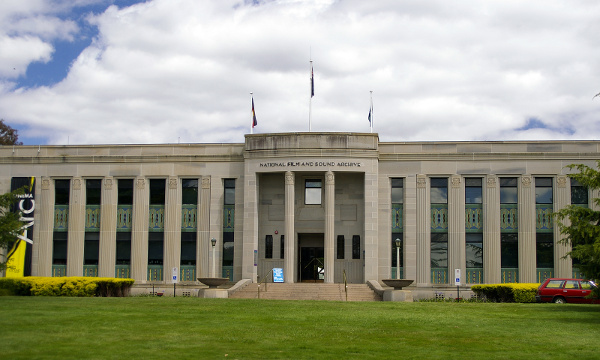 National Film and Sound Archive in Canberra, Australian Capital Territory.
What we can offer
We will adapt the algorithms and workflows of the
Auphonic Web Service
to special requirements of your institution:
Input files are take from your servers or any other external service.
All files can be processed with our Audio Algorithms and custom parameters: Loudness Normalization (EBU & ATSC standards, Mobile and custom targets), Adaptive Leveler, Audio Restoration Algorithms (Noise, Hum Reduction, Filtering, etc.), Multitrack Algorithms, etc.
Additional algorithms are developed on request.
Encode your files in multiple formats (MP3, Opus, AAC/MP4, Ogg Vorbis, WAV, FLAC, Video, ...) or at various bitrates.
Create a custom Metadata Mapping from your input to all output file formats.
We can also add Chapter Markers to all supported output formats, taken from various input sources.
Transfer result files to your target server and publish them to other services:
YouTube, SoundCloud, Amazon S3, Archive.org, Libsyn, Dropbox, Google Drive, Blubrry, Spreaker, etc.
Everything is computed in parallel on scalable, dedicated hardware:
archives with thousands of hours might process several months on a desktop computer.
Use Cases
We are happy to work on all
audio/video archives
, collections or datasets, which are
too big to be processed manually
.
Some examples:
loudness normalization of music collections or sound effect databases
audio or video archives of broadcast stations
podcasting archives (e.g. taken directly from RSS feeds)
audio guides of museums
web-based audio/video archives and services
lecture or conference recordings
Contact Us
Please tell us the size of your archive and the algorithms/adaptations you need, or an Auphonic Preset you want to use. Then we can estimate costs and processing time according to your requirements.
We are happy to test the setup on a subset of your files, before processing the whole archive.
Please contact us at: info@auphonic.com!