Starting off your new podcast or looking for the best tools that can help you grow or revamp your already launched podcast? Here is one answer to your relentless searches: our collection of impressive tools for podcast production.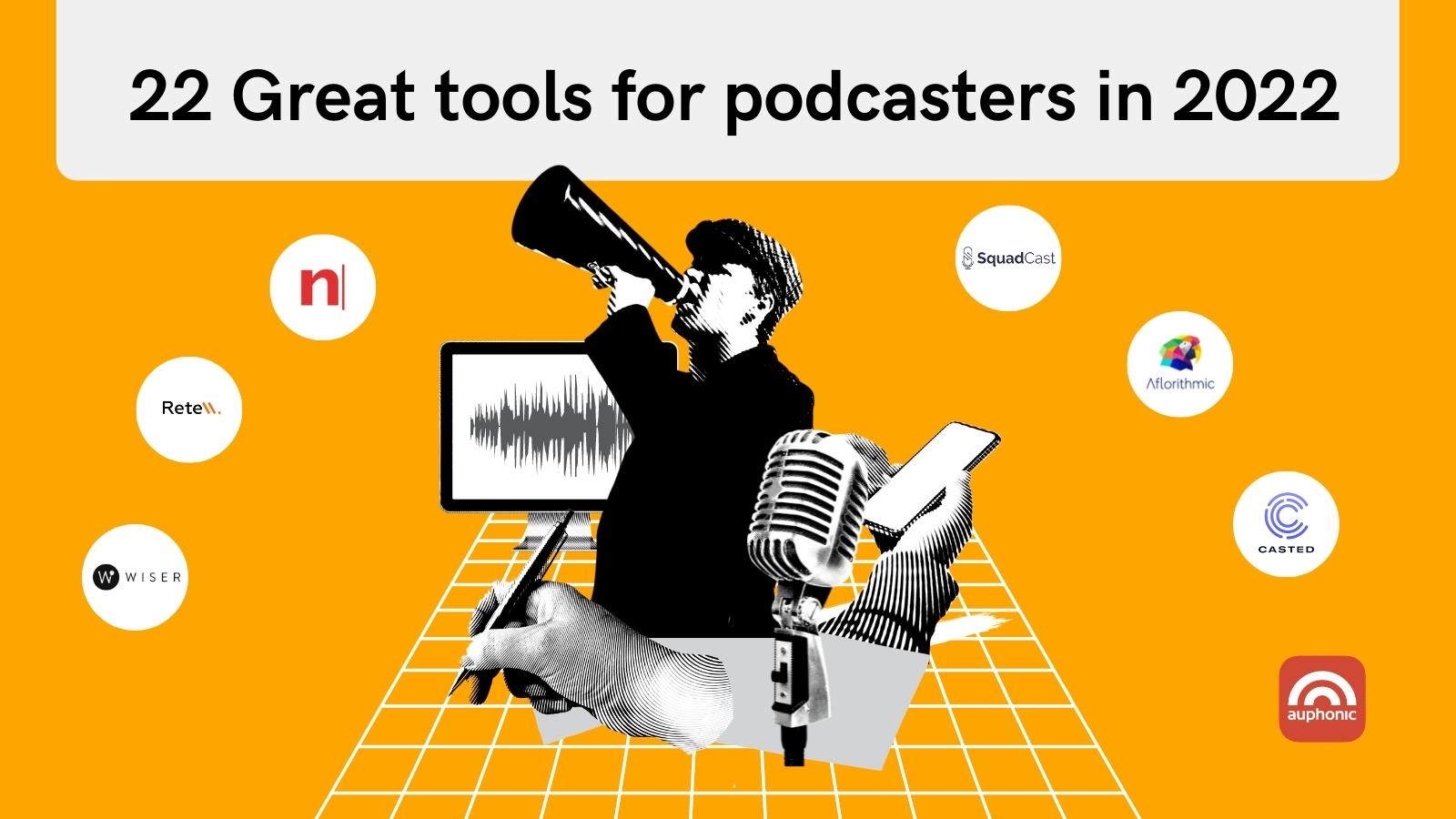 There are quite some big players out there on the market that most podcasters are already acquainted with and which allow or might not allow (that's why you are here, aren't you?) to produce a sound podcast.
Yet, the podcasting ecosystem is even bigger than it seems, and more and more newcomers are joining the game. That is why we prepared a list of 22 great tools that can help you to create better podcasts and distribute them around the globe. Some of them are maybe lesser-known but no less amazing and have their perks that can surpass your expectations for podcasting tools. No matter at what stage of the journey you are, you will find a tool or two in our list that will be just the right thing you need.
Some solutions have free options for podcast editing or podcast recording that we highlight with a star in the descriptions. This list is not a ranking but instead a range of tools that follows a podcaster's journey from pre-production to promotion.
We also created an infographic with an overview of all tools.
Table of contents
Pre-Production
Milanote is a visual board tool specifically designed for people working in creative industries. As a podcaster, you will find it indispensable for the ideation and organization of your podcasts. Milanote helps you to prepare brainstorming and interview sessions together with your team and for yourself. From saving up the notes and to-do lists, uploading images, videos files, and other relevant content for your projects, drawing, and commenting, Milanote is all in all a powerful tool for collaboration with other users. They also provide a collection of versatile templates for each and every project. For instance, podcasters can use outline and workflow templates to plan engaging podcast episodes and whole projects. Besides, their visual boards might be just what you need to start a podcast if you have been mulling over this idea for quite some time, or just can help you to break your podcaster's block.
Price: Freemium, free options along with personal and team Price options starting from $9.99/month
MatchMaker is one of the best solutions for finding a guest expert for your podcast. Instead of searching endlessly for the right person on the Internet, with Matchmaker you instantly find the right-fitting expert or storyteller just by looking them up using keywords or even getting recommendations based on your location and interests. What is more, you can look up introduction videos of the short-listed guests and message them right there in the MatchMaker.
Price: Freemium, free Lite plan along with other more advanced paid options.
If you are looking for a simple yet functional note-taking app, Notejoy might be just for you. Offering a free version alongside different other options with extra features, this app does the best at what it should do: keeping all your thoughts and findings together. Aside from the expected text, image, and link integrations, this app particularly stands out for its security features, collaboration capacities, and integrations with other services. For instance, you can simply send your emails from your inbox to Notejoy.
Price: Freemium, free option along with Solo, Plus, and Premium options starting from $4/month
Recording
When you are looking for audio and video recording software Squadcast is one of the best solutions you can come around these years. Squadcast takes on itself the most crucial aspects, such as allowing you to record a top-quality video and crystal audio for your podcast, and autosaving in in the Cloud for future use if you don't want to do it locally. Besides, this software allows you to record interviews and talks with the guests right in the browser and to test the sound and video before the recording in the Green Room. What is more, aside from the multi-track recording with separate audio tracks for each participant that to edit the audio faster, its technology recreates a feeling as if everyone were in the same room, and then, does its beat for automatic audio editing. Overall, Squadcast makes the life of a podcaster way more effortless and helps to create high-quality content that you can be only proud of.
Price: paid options starting from $10/month
Thinking about elevating your video podcast production and telling your stories in the most captivating way? Storyboard That is a great solution for that. Used by businesses and educators, Storyboard allows you to create different types of visualizations, including the use of illustrated motion characters in graphic novels or comics, and then voice over your explanations.
Price: paid options starting from $7.5/month
Retell is a production tool that in essence turns your written content into an audio one. With more than 100 voices that sound just like real humans and over five dozen languages of choice, this is a great option for those who want to turn to audio podcasting and spread the word around the world without having to record yourself or anyone else. If this is what you are looking for all this time, Retell is for sure the thing you need.
Price: Freemium, free option along with Premium and Business options starting from $50/month
Aflorithmic is another cross-functional platform for basically everything. It includes rendering your text into speech and increasing engagement. As opposed to "traditional" podcast production AI voice synthesis and ethical voice cloning of podcasters' voices cuts the production time to a tenth of what you would have invested into manual audio production. Useful not only for turning the written articles into the podcasts but also for replacing the need to record audio ads for the podcasts.
Price: Freemium, free options along with other paid options starting from $39/month
Post-Production
If you thought by now that we are going to miss an opportunity to tell you once more how great we are, well, you were wrong. Auphonic is a real 1-click audio magic tool used for automated post-production of your audio. Its features boast automatic loudness normalization, noise reduction, intelligent leveling, multitrack merging, integrations with content deployment and publishing services, speech recognition and search technologies, and much more. Auphonic is what you need to start a podcast when you have neither time nor motivation to spend hours of detailed audio editing work, and instead, you want it to be taken care of by someone or something else, like AI and signal processing.
Price: Freemium, free option along with monthly or credits options starting from $11/month
Automated speech recognition has made some great improvements over the recent years, including also our solution for automatic transcription. For the cases, where AI yet cannot do the job, or you need to transcribe the dialogues, unsupported languages, or you need a very precise and accurate speech-to-text transcription that can only be done by humans, Subly aids you in this endeavor in the very best way possible. Allowing you and your teammates to seamlessly collaborate on transcription and automatically set up the captions and take a step further and automatically translate your transcriptions to over 67 languages for international reach.
Price: paid options starting from $14/month
Reel is another editing tool for your audio-visual projects. Scoring a multitude of features this software turns your audio podcast into a full multi-media production. After applying visualizations to your voice, automatic captioning, and graphic templates to illustrate your podcast episode, you can then easily distribute it over different channels other than podcast hosting platforms. Reel helps you to carry out more integrations with your existing podcast listeners, and with this tool, now readers too.
Price: Freemium, free options along with Basic and Pro paid options starting from $10/month
Publishing
Wiser is a pretty established platform for a social curation of podcasts, among other types of media. You can connect with your friends and family and follow intellectual influencers – Wisers". Wiser uses a high-quality human-centric approach, where content is suggested by real people, rather than an algorithm that is said that it most of the time does not allow you and your audience to expand the horizons of thinking. Available for iOS and Android, this platform will surely extend your reach.
Price: free
Smash Notes is the opposite of audio or video content publishing platforms. It praises itself on being a place where you find the notes taken from podcasts. It is a great way to spread your voice around the net whilst saving precious time for the audience. Although notes, of course, do not replace the experience of listening to a well-engineered podcast, the text format of podcasts can be yet another way to transfer your unique knowledge.
Price: free
Beams is a bit of a different type of animal - users can only listen to max-90 second audio. Although not being a podcast platform for the whole of your podcast, Beams enables your current and future listeners to get exposed to the best parts of your production, enticing them to reach out and crave for more.
Price: free
Audvice – a tool from our fellow Austrians – is rather targeted on the corporate implementation of podcasts and use of those for internal corporate communication and education, like sharing insights or onboarding new team members. Audvice is equipped to record, edit, and distribute the recordings around the company, without cutting down on internal and external security. In addition to that, one can track the engagement rate, ad visuals, and documents supporting the podcast and embed them into external platforms. Right now in beta mode, but you can join a waitlist and get access first.
Price: n/a - currently in Beta
Promotion
When you are at a stage where you are looking at the monetization options, Supercast is one way to go. Supercast helps you to spread across multiple platforms for podcast distribution whilst creating an income stream by allowing your listeners to subscribe to your content.
There are many reasons why Supercast might be the best choice for subscription-based podcasting – they integrate into any podcast listening platform, allow you to deliver personalized podcasts to listeners, combat piracy and keep your financial numbers intact, communicate with the audience via built-in Ask Me Anything, and keep oversight of the audience and podcast statistics.
Price: All-in option for $0.59/month per subscriber + Stripe fees or Custom Price for large-scale podcasters
Voxalyze takes over a more technical part of the podcast distribution process — the Podcast Visibility Optimization. Voxalyze provides podcast creators with data needed to understand how to target, spread, optimize the descriptions and other components of the audio production. It assists podcasters with selecting the right keywords for high visibility, closing the gaps that hinder growth, and showing the statistics and data-based suggestions for the best rearch of the project.
Price: Freemium, free options along with other paid options starting from $23/month for analytics tools and $399 one-time payment for Insights analysis, with a possibility to get extra insights.
Auddy is another tool responsible for making your podcast successful by providing a platform where one can turn for assistance from production and promotion experts. If you as a creator are looking into how to bang the drum for your podcasts, this network of producers and organizations works together to make the podcasts go round the world. You can receive both advanced knowledge and strategy recommendations on how to promote your series and grow your audience, receive data insights and analytics, set up promotions and sales, and from the beginning they can help you with the content production. All based on royalties that go to the contributor.
Casted is a content marketing solution built around B2B podcasting. It allows content marketers to produce, upload, share, archive, and keep track of their audio and visual content. From generating audio and videograms to accessing behavior metrics, Casted helps to amplify the distribution of the content, all whilst keeping everything tracked and organized.
Price: upon request
Audry is more of a community of podcasters that has in its goal a cooperative, organic, and sustainable approach to podcast growth. Audry provides a platform where podcasters can engage and build their collaborations based on their interests and share their knowledge and expertise in each other's podcasts. A rightfully beautiful idea on how to bring bright minds together.
Price: free
Racket is a new social media platform for podcasts. Yes, you read this right. Think Clubhouse slash Twitter slash TikTok. Intended as a free audio-centered media platform, one can successfully utilize it to pass around the news about your podcast among interested listeners, uncover new audiences thanks to the algorithms, and communicate with people directly in the audio form by replying to their 'Rackets'. Where Beams allows you to upload 90 seconds your podcast, Racket is more of an instant audio media that connects you people and potentially can grow your popularity.
Price: free
Podroom is a podcast platform striving for 2 things - to create a great community of podcast listeners and let podcasters monetize their productions more transparently and straightforwardly. Working on the intercept of podcast hosting and podcast promotion, Podroom allows the users easy access to their favorite podcasts, share their insights and thoughts and generally explore the living knowledge of podcasters and listeners. For podcasters, in turn, this means a great channel to publish their podcasts, an opportunity to get to know their listeners, to be in and not outside the collectives that they generate, and also receive donations from their loyal listeners.
Price: free
Zvook is an option for those podcasters that seek collaborations with brands and sponsorships. Useful both for the companies and for the podcaster themselves, Zvook connects these to create a functioning and gainful introduction of the sponsorships into your podcast episodes. For companies, it encourages them to select the best fitting content creators based on the niches and categories, and for podcasters - shows openness to future sponsorships and opportunities.
Price: free
Conclusion
In this list, we compiled the most promising newcomers to the world of podcasting - see our infographic as an overview.
If your company was not included, drop us a note, and we will highlight you in our next blog posts.
If you, as a podcaster, have any questions regarding our products, please feel free to send us an email or contact us on social media.
Infographic
Click here
to download our infographic.